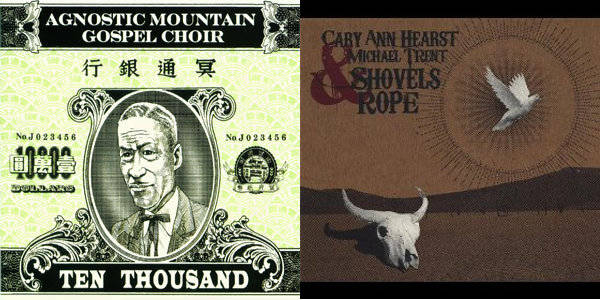 My recent family holiday involved a fair bit of driving, and my wife and I both tried out a lot of new (to us) music on one another, with two (very similar) artists emerging as clear favorites:
Cary Ann Hearst has enjoyed a lot of recent public interest as a result of the use of her single Hell's Bells in an episode of True Blood. Alice and I both really dug this song -- a rocking, mean, countrified song that showcases Hearst's Joan-Jett-meets-Dolly-Parton-with-a-flanger vocals. But we got the most play out of Shovels and Rope, an album she recorded with Michael Trent. Shovels and Rope is filled with sloppy slide guitar, tub-thumping percussion, and more of Hearst's snakebite-mean vocals, though there are a few tracks that are straight-ahead lovelorn C&W tunes that might have stepped off the stage at the Grand Ole Opry. These country tunes are serviceable and even sweet, but we thought they felt almost like a formality, as though Hearst was saying, "I'm not just some psychobilly, I know country, I can do country, I do the strange stuff I do because I choose to, not because I must." Meanwhile, the grittier numbers are damned inspired, especially a cover of Charlie Feathers's I Can't Hardly Stand It, which tops all the other versions I've heard, including the one The Cramps recorded.
I bought The Agnostic Mountain Gospel Choir's Ten Thousand on a whim at Brill, a wonderful coffee shop and record store in London's Exmouth Market, near my office (I almost never go wrong buying random stuff off the shelves at Brill). Like Shovels and Rope, Ten Thousand features a lot of stompy, open-strings slide guitar, loose percussion, thunderous railroad rhythms and growling vocals that are filled with portent. I'm biased towards uptempo music, so I love tracks like You Got it Wrong. The overall album has some of Jeff Healey's roadhouse feel, but with a lot more countrification than Healey generally slipped in. It made a great counterpoint to the Hearst/Trent album, and we played them on shuffle together for most of the trip.
http://feeds.boingboing.net/~r/boingboing/iBag/~3/UBvWF5wei2s/cary-ann-hearst-and.html
Sent from James' iPhone