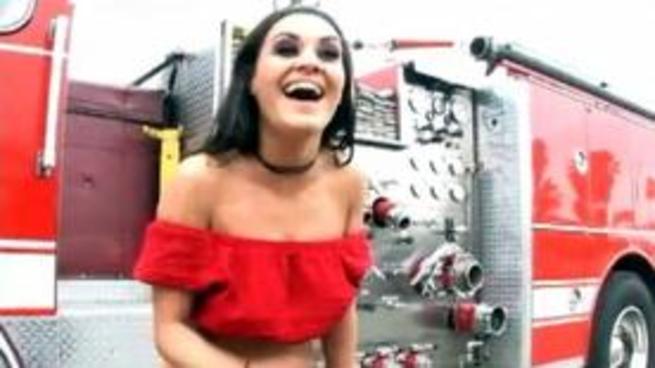 Los Angeles firefighters are under investigation by the LAFD for apparently allowing porn producers to use their fire engines (the actual fire engines, not a euphemism for their hubba-hubbas) in an adult film. This follows reports in April that two LA traffic cops from the Los Angeles Department of Transportation appeared in a porno.
In one of the movies, shot at Venice Beach, LAFD Engine 263 is used as the backdrop by an actress performing lewd acts.

"Look at this fire truck," says porn actress Charley Chase, as she climbs on the engine and repeatedly exposes herself. "Isn't that nice."

It appears that a group of firefighters are watching the movie being shot.

"I know them," one man says on camera in the reality-style porn flick. "I'm a firefighter."

For several minutes of the movie, the actress appears to have free access to the engine, and asks numerous passersby to fondle her. "Look, I think we have more friends," she says, as a group of men stop to fondle the actress.
I'll tell you what's a lewd act. That goddamned lousy excuse for dialogue, that's what.
The incident in question involves LAFD staff and equipment in Venice, but there's more: a second investigation is under way involving a fire engine from LAFD in Hollywood in another pornographic film.


Sent from James' iPhone