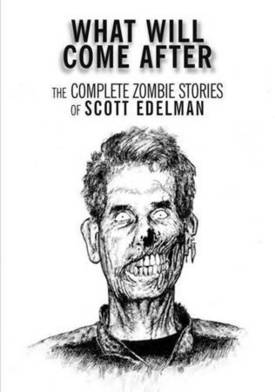 Scott Edelman's short story collection
What Will Come After
collects the extraordinary zombie stories he's been writing since the mid-1990s, along with one new tale, the eponymous "What Will Come After." Edelman's zombie stories aren't quite what you've come to expect from the recent upsurge in zombie fiction and movies; he's not so much interested in apocalypses as he is in the personal pathos lurking there among the walking dead. Edelman's short on people running away from biters in horror (though there's some of that to be sure), and long on gut-wrenching, heart-wrenching personal stories about people whose lives are upended by the end of the world. Edelman's survivors try to square up zombiism with the dark impulses behind terrorism, with their own lack of self-knowledge, with mercenary instincts, and with selflessness and bravery. And as for Edelman's zombies, they're driven by revenge, honor, loyalty, and the ever-present hunger.
Two of the stories in this collection are extraordinary pastiches: "Tell Me Like You Done Before" remixes Of Mice and Men as a story about selflessness and terror; "A Plague on Both Your Houses" is a modern Shakespearean zombie tale that brings wit and poetry to the star-crossed romance between the children of the mayor of New York and the zombie mayor of New York.
The remainder are all Edelman, and much more haunting than scary. I was lucky enough to get one of the beautiful limited edition hardcovers that PS Publishing did for the collection, but it appears that they're sold out, leaving only the $6.99 ebook edition. Get it for the gore, stay for the sweet melancholy.
Sent from James' iPhone